Local. Trusted. Family Owned.
The Holiday Lighting Experts
The holiday season is an exciting and fun time of year where families come together and the pressures of work seem to fade away, if only for a time. Lights and decorations spread joy and cheer throughout neighborhoods and cities alike. 
Creating beautiful holiday light designs takes a lot of work and can get expensive quickly. If you're dreading the thought of untangling all those lights, breaking out the ladders, and spending your whole weekend out in the cold, Get Lit Lighting has the perfect solution!
Welcome to Get Lit Lighting where we are redefining holiday-themed décor through lighting. By offering design quality holiday light designs we can turn mundane lighting solutions into vibrant, picturesque, and eye-catching fixtures for your home or business.
We offer plug and play lighting solutions for both residential, and commercial spaces. As long as the space you wish to transform has pre-wired switches, you're ready to turn any dull, dimly lit space, into a wonderous and festive display of lights.
Our design specialists can help talk you through the best fit for your residential or commercial space and our highly-trained installation technicians can turn your holiday lighting dreams into reality. By offering fully customized designs to suit our customer's needs and spaces, we ensure that no two properties we work on will ever look alike. Your design will be unique, fun, and full of holiday cheer! 
Get Lit Lighting uses the safest installation methods for both your property and our staff. We will get even the largest and most complex design jobs done safely, on-time, and on any budget. For our customer's peace of mind, we are fully licensed and insured and will do our utmost to protect your property from any damage resulting from installation.
Take the stress and hassle out of holiday decorating and spend more time with your family, friends, and loved ones. Get Lit Lighting makes your satisfaction our number one goal, we will work with you to design your dream display and guarantee a hassle-free experience. If for any reason one of our lights stops working, we will replace it to keep your property looking its best.
Don't let the fear of holiday decorating hassles make your property the humbug of the block. Contact Get Lit Lighting today for a free design consultation and get the best holiday decorations without the stress!
We are Get Lit Lighting, LLC. Whether you need our top-rated Christmas lighting or event lighting, we've got you covered. We proudly offer our services to Evansville, WI, and the surrounding areas. 
Our design specialists will examine your home's specifications and work with you to design the best, customized display to fit your home like a glove.
Get Started!
A customized, eye-catching holiday lighting design can help your business to stand out and attract new customers this holiday season.
Get Started!
We also offer professional event lighting and wedding lighting services. Call today to learn more!  
Call Today!
In addition to holiday lighting, we offer top-rated permanent lighting solutions for your home or business! Call today to learn more about our lighting services.
Call Today!
Get Lit Holiday & Christmas Lighting FAQs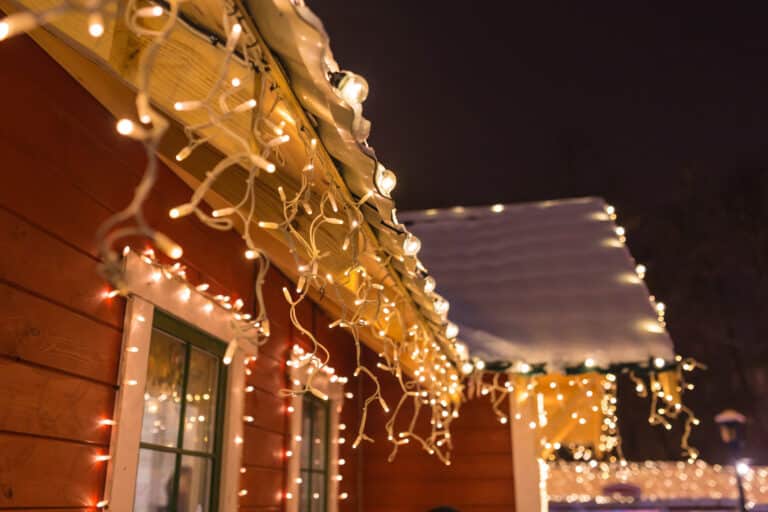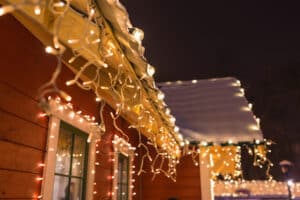 The best way to hang Christmas lights is to start by stringing the lights along your roofline.
Once you have the lights in place, you can then begin attaching them to your gutters and shingles.
Start at one end of the house and work your way around until you reach the other end. Make sure to leave enough slack in the lights so that they can be pulled tight when you are finished. If you are hanging icicle lights, be sure to drape them over the edges of the gutters for a more realistic look. You can also use zip ties or physical decorations to secure the string of lights in place along your roof-line.
Hanging Christmas lights may seem like a simple task, but it can be very dangerous. Each year, emergency rooms treat an average of 15,000 people for injuries sustained from falling off ladders and scaffolds while hanging holiday decorations.
To avoid being one of these statistic, we highly recommend hiring professional Christmas light installers to eliminate all your risk of injury or even death. If you insist on doing it yourself, please follow these safety tips:
Use the right ladder for the job. Depending on the height and angle of your roofs eave, you will need either an extension ladder or stepladder. Don't try to make do with something that's not meant for the task at hand.
Inspect your ladder before using it.
Hire a professional to avoid injury or death!
Thanks to JC and his amazing crew at Patriot Lighting for this wonderful information!  You can visit their website here: www.patriotillumination.com
If you're dealing with strands of lights that have gone out, there are a few things you can try to get them working again. First, check to see if any bulbs have burned out and need to be replaced. You can also try gently bending the filament back into place using needle-nose pliers. If that doesn't work, you may need to replace the entire strand of lights.
If you find yourself in this predicament year after year, it may be worth considering hiring a Christmas lighting company that owns and installs Christmas lights. This way, you won't have to worry about fixing them yourself or dealing with the hassle and expense of replacing them every year.
Here is a quick how-to video showing how to fix Christmas lights: